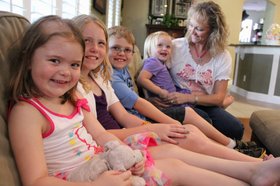 In a rush to be out of the sterile doctor's office in favor of the vibrant leftover birthday fun that awaited her at home, 5-year-old Caitlin Downing nearly didn't notice the fleetingly familiar face of the young boy she passed in the Arnold Palmer Hospital hallway on May 22.
Neither did her mother, Denise. But when the boy's mother called out to them, the parallel realities the two families had been living for the past month instantly collided.
"Can I give you a hug?" asked Ginger Nader, the mother of London Peoples, the wide-eyed boy with the round, familiar face. "I feel like I know you so well, and we've never even met."
"Are you Caitlin?" London, 6, in his pirate shirt, with his hair styled into a thinning-by-the-day Mohawk, asked the little girl. He was on his way into his next-to-last day of radiation treatment.
"London?" asked the spunky girl in the Hello Kitty dress, her head partially shaved to reveal a story-telling scar, realizing their connection. She was one step ahead, at the hospital for a post-operative check-up.
The pair, having only previously seen each other in photographs, are two of the estimated 200 children in the U.S. to be diagnosed with diffuse intrinsic pontine glioma (DIPG) — a rare, inoperable and incurable form of brain cancer — this year. They live less than 20 miles away from each other, Caitlin in Oviedo and London in southeast Orlando. They were diagnosed three months apart, Caitlin in January and London in April.
Dual diagnosis
On Sunday, Jan. 8, Caitlin was complaining of feeling cross-eyed and was turning her head sideways to read things her teacher at StarChild Academy in Oviedo was writing on the board.
And by the following Friday, Jan. 13, she was telling her mother, Denise Downing, that she was dizzy and couldn't see the walls around her.
"It took five days and my child couldn't walk," Denise said.
On Friday, April 6, London went to kindergarten at Conway Elementary, giggling, running and playing as usual, and on Saturday, April 7, his mother Ginger Nader says he was walking into walls, falling out chairs and having problems operating the right side of his body.
"London's never sick, he's never been sick, and all the sudden my beautiful, healthy little boy was falling out of chairs and could barely walk," Nader said. "It was just that quick."
Both children were found to have cancerous tumors on the pons of the brain stem, and were diagnosed with DIPG, which can go undetectable until the tumor grows to a point where it pushes on things it shouldn't, causing the abrupt, debilitating symptoms seen by both children.
London and Caitlin's oncologist, MD Anderson Cancer Center's Dr. Amy Smith, said a DIPG diagnosis comes with an average eight- to 15-month survival rate with radiation, calling it a "uniformly fatal disease."
Caitlin finished radiation in February, while London will be done with his first 30 days of treatment on May 23.
After the radiation Denise said she and her husband Jeff were handed a stack of 31 different clinical trials on the market to research each one's effect on DIPG. They chose a phase-one trial out of Sloan-Kettering Cancer Center in New York — or "You Nork" as Caitlin calls it — to inject a radioactively tagged antibody into the tumor, trying to kill it from the inside out. Due to its placement, removing it surgically is impossible.
Caitlin says she just wants to do anything to get the "stinky bump" out of her head.
May 1 was the first day the trial surgery could be offered following approval from the FDA in January, and on May 1, Caitlin was there to be the first subject.
"I have to look at it with a little bit of faith that it lined up so perfectly," Caitlin's dad, Jeff Downing, said.
Denise said the clinical trial's only goal is to check for any toxic side effects from the procedure, not to treat or cure. But that doesn't mean both the Caitlin and London's families won't be holding out hope that it could.
"As a parent desperate for a treatment for my child, I can only hope that this'll hit a grand-slam and my daughter will be cured, but I have to know that's not the goal with this," Downing said.
London's mom said she'll be watching Caitlin's case closely, as the girl continues to go to weekly check ups, first back and forth to "You Nork" for the first month, and then trips to see Dr. Smith locally at Arnold Palmer Hospital for Children to keep tabs on the tumor in coming months.
"We're really hoping that this will be something new that works," Nader said.
But in the mean time, both families are feeding off of expansive support systems their situations have presented for them in and beyond their Orlando-area communities.
Spreading love and cheer
Caitlin's dreams are to go to big girl school — kindergarten at Partin Elementary — and become a cheerleader like her older sister Courtney.
In August those dreams can come true with age. But to fulfill all the other needs, wants and dreams of both Caitlin and her family in the meantime, the Oviedo community came together to form the fundraising support group "Cheering for Caitlin."
"You can't talk about Caitlin without talking about the impact she's had on the community," Denise said.
Just three weeks after Caitlin was diagnosed, the cheer was starting to spread. Sharon Browning, co-owner of StarChild Academy in Oviedo, and the StarChild staff formed a team in the Cheering for Caitlin name for the Miles for Hope brain tumor awareness and fundraising walk in Baldwin Park.
By the Feb. 11 walk, Caitlin's team grew to 470 registered walkers — more than a third of the total 1,422 participants — and raised more than $35,000 for the cause and research.
Soon the cheers for Caitlin were bouncing of the buildings of Oviedo and spreading far and wide. Within a month they'd sold enough gray Cheering for Caitlin car ribbon magnets — spread throughout the country — to get a picture of one on a car next to a license plate from all 50 states.
"When we drive around and she sees one on a car, she'll press her nose right up against the glass like this and she'll squeal," her mom says, mimicking the girl's smushed, smiling face. "She just gets so excited to see them."
And from a local little league season and team dedicated in her name, to multiple fundraising dinners a week, Caitlin's cheer is taking over the town. It's been an unexpected outpouring of support from friends, neighbors and strangers that Denise says a million thank yous can never repay.
"She's taught me to be kinder and she's taught us how to accept help…. I was questioning why us, why was the community all coming together for us, and someone told me," she said, "'Because your family could be any of our families, and your child could be any of our children.'"
For Caitlin's fifth birthday on May 17, the entire community came together for a celebration the size of a county fair. Pony rides, petting zoos, face painting, a rock-climbing wall, the Orlando Magic Cheerleaders, and even a plane flying overhead towing a banner that read, "Happy B-Day Caitlin! CheeringforCaitlin.com" took to the grounds, and sky, at Double Down Athletics in Oviedo for the celebration on Saturday, May 19.
Every piece was donated or paid for by Cheering for Caitlin donations. Even the man hired to mow the field outside the gym to prep for the party, without being asked, offered his services for free after hearing Caitlin's story.
"No matter how this all turns out," Sharon Browning from StarChild said, "no one who has been close to Caitlin and her family through this will ever be the same again…. She puts a perspective on what's really important in life."
Love for London
Across town, in April, a similar support group came together for London Peoples, called "Love for London," before anyone in London's family ever knew about the existence of Cheering for Caitlin, or Caitlin herself. From Orlando to Winter Park, Lakeland and Sarasota, his story and fundraisers in his name are starting to span the state.
"We really love our kids and always only want to do what's best for them," London's mom said. "… But I wouldn't have been able to cope with all of this if I didn't have all these great people to back me up."
On May 22, Brain Tumor Awareness Day, according to the non-profit Accelerate Brain Cancer Cure, Caitlin and London's footsteps happened to cross for the first time, though their paths to get there had paralleled many times before.
London asked to hug Caitlin and told her how pretty she was in her pink tulle skirt. Caitlin came out from hiding behind her mom's legs to greet the boy she'd heard about with the same "stinky bump" in his brain.
London pulled on his mom's arm, and she leaned down so he could whisper something in her ear:
"Does she know that I'm going to marry her one day?"